Meet our leadership
Say hello to the leadership team at Mosaic Church. Got questions for the lead team at Mosaic? Contact us by clicking here.
Adam Viramontes - Lead Pastor
Adam, and his wife Heather, are both native Albuquerque kids who have fallen deeply in love with this city. They discovered grace in college and have been walking together with Jesus ever since, have been married since 2004, and now have three beautiful children. After gaining life and ministry experience all across the country, including undergraduate studies at Grand Canyon University and seminary studies at Reformed Theological Seminary, the Viramontes family was called to plant Mosaic Church in 2015.
Adam considers himself an amateur chef, works out at a Crossfit Box (so cliché) and enjoys reading books with a frothy IPA in hand.
His hope for Mosaic Church is that it becomes a church where anyone can belong and everyone celebrates the greatest news in the history of the world together!
Tito Rosado - Community Formations Pastor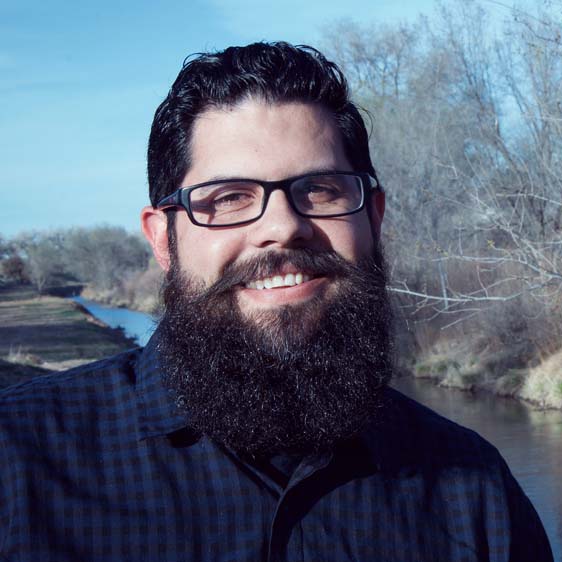 Rafael (Tito) and Marili Rosado have been married since 2001 and have a daughter, Arieli Soé, who keeps her parents on their toes and brings a great deal of joy to their home. With nearly two decades of pastoral ministry and teaching experience, including a Bachelors in Pastoral Ministries and a Masters in Educational Leadership, Tito joined Adam and Heather in the planting of Mosaic Church in 2015 and is currently in seminary for a Masters of Divinity.
Coming from a musical family, Tito has enjoyed playing music in one capacity or another, from singing in choirs, leading music in church, or just jamming with friends. Tito loves all things coffee, can talk sports all day, thinks he's a better golfer than he actually is, and has an insatiable sweet tooth. When he is not spending time with his lovely wife or doting on his daughter, you can find Tito spending time with his church family, tending to his beard, or reading a good theology book.
Tito and Marili strive to bring the beauty of the good news about Jesus to the broken places in our lives.
Krysta Orona - Families Ministry Director
Krysta is an Albuquerque native who married her high school sweetheart, Nathan, in 2008. Together they've grown a family of two energetic boys and live in the friendliest neighborhood ever on the West Side. They have been part of Mosaic since 2015 and have loved watching God grow His church.
Krysta loves dancing and singing at the top of her lungs to Carrie Underwood and is still mourning the loss of her motorcycle that she sold to a good home and has dreams of one day owning another (faster) one. Krysta has a passionfor teaching children God's truth and loves to see their eyes light up when they grasp how much Jesus loves them and how much His sacrifice means.
To Krysta, there is no greater honor than nurturing God's children and sharing the Gospel with them.
Laneta Morris - Administrative Assistant
Laneta and her husband Jacob share a devotion to loving and spending time with their family which includes two adult children and two joyful grandchildren. Laneta spent nearly 20 years working in the financial industry; her keen insight into the corporate world and exceptional organizational skills have proven invaluable to Mosaic Church.
Laneta enjoys a good cup of tea and mostly-anything chocolate, is a talented chef and baker, and enjoys crafting. While she loves everything her phone or computer can do Laneta prefers her planner, a notepad, and several pens. You can be sure to witness a smile on her face whenever you see her.
Jacob and Laneta have a passion for the Gospel and a deep desire to see it impact our city in meaningful and lasting ways.